A Message From Jill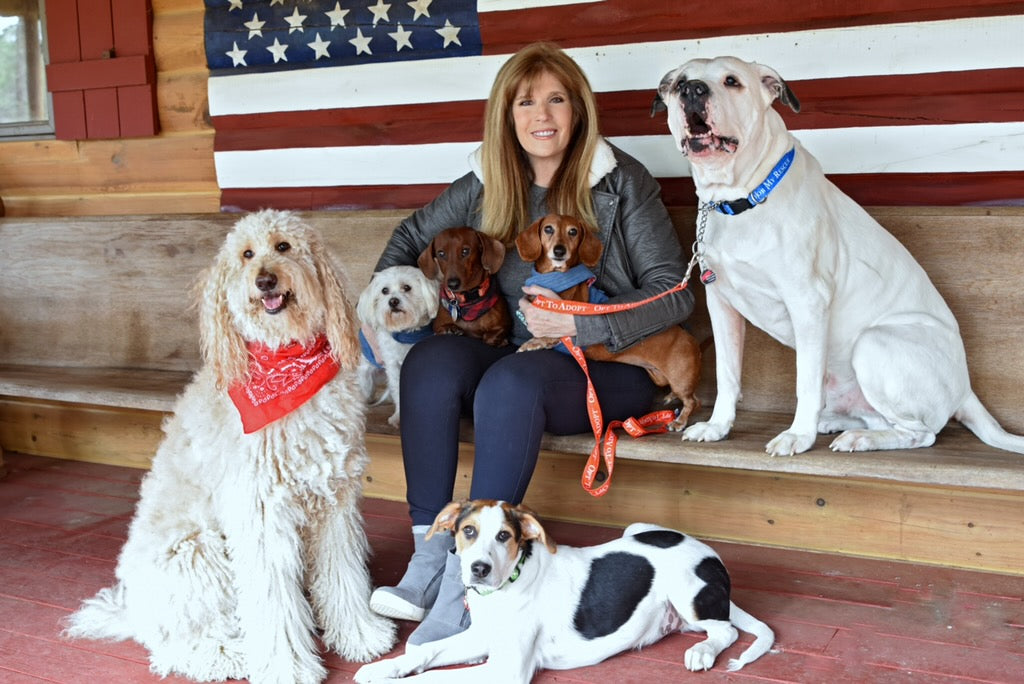 A Letter from Jill
Welcome to Pet Products with a Purpose and thank you for taking the time to browse our heartfelt site!

I would like to share with you how this mission of my heart started and why rescue and adoption have become my oxygen.

After spending 16 of my 24 years on NBC's Today Show as their entertainment reporter, it was in 2006 that I truly found my life's calling - thanks to my beloved rescue dog, Jack. This beautiful German Shepherd was sadly diagnosed with Osteosarcoma and needed to have a front limb amputated, but it was his recovery and will to live that changed my life forever! He never let the loss of that limb stand in the way of living his best life and survived a miraculous 2 years and 9 months longer! His resilience left an indelible mark and prompted me to change my life and career forever.

In 2006, I switched my beat on the Today Show, going from the red carpet to the "wee wee pad". Creating, producing, and hosting the award-winning segment, Bow To Wow. It was the first of its kind and set the precedent for all rescue/adoption segments to follow, but the biggest gift - we had a 100% adoption record for the 8 years that the segment ran!

In addition to Bow to Wow, I then created a show called "Best in Shelter with Jill Rappaport" that focused on the "underdogs" of the shelter world, which is what I am all about! Focusing solely on seniors, special needs, and pit bulls, the legendary Betty White led the senior pack in the show!

It's these older animals that have always touched my heart in a very special way which prompted me to create and host "Dog Bowl" for Animal Planet which was Puppy Bowl for seniors!

And when I became the spokesperson for the American Pet Products Association (APPA)'s Pets and Life Campaign, a lightbulb went off to start a show, website, and company highlighting all of these wonderful pet products - but with a PURPOSE! The purpose being to save lives!

Every product featured here on our site will promote and encourage rescue and adoption. Every FUR fabulous model featured will be a rescue animal in need of a home, plus we will feature other lucky pets who have now finally and thankfully found their forever loving homes!

Together, as a team, we will shine the brightest light on the importance of opening up our hearts and homes to these fur angels in need!

Jill Rappaport's Pet Products with a Purpose Proudly
Supports: 
• ASPCA
• Helen Woodward Animal Center
• ARF (Animal Rescue Fund of the Hamptons)
• Southampton Animal Shelter
• Little Shelter, Huntington Long Island
• Long Island Bulldog Rescue
• The Gray Muzzle organization
• MSPCA

Thank you for coming to our site and please OPT to ADOPT!

Sincerely,

Jill Rappaport

Pet Parent to 6 Rescues,
and a Forever Voice for the Voiceless
Pet Products with a Purpose
Sadly, every year, countless numbers of dogs and cats are dumped, ending up in shelters or worse...

Pet Products with a Purpose's mission is to raise awareness to this never-ending dire situation, while providing one of a kind products that will make a difference!

After many years as an animal advocate, the time came for Jill Rappaport to start her own pet product brand, solely aimed at saving lives.

Jill Rappaport's Pet Products with a Purpose was created to give consumers wonderful, essential goods and in return, give back by supporting rescue groups and organizations. With the key message of rescue on every product, PPP is making sure every animal will find their forever home.

As a company, we are committed to truly making a difference by also giving a portion of our proceeds to several notable shelters and charities.

Our one-of-a-kind collars and leashes in bold, fashionable colors and sporting mindful rescue slogans, feature LED lights to not only provide you and your pet an additional safety feature at night, but most important, to shine a much needed, bright light on rescue animals.
About Jill
Jill Rappaport is an award-winning animal advocate, network journalist, best-selling author, and creator of a very impactful rescue line of pet products for dogs, cats, and horses.

Rappaport was the first to put rescue and adoption on the national map with her award-winning segment, "Bow to Wow", on NBC's Today Show. The acclaimed segment ran for several years and had a record 100% adoption record.

But she didn't stop there! Jill is a recognized author - having written four books, three all about animal advocacy including her New York Times best-seller, "People We Know, Horses They Love" which is now a collector's item.

Her children's book, Jack and Jill, was written about her beloved German Shepherd, Jack, who inspired her to begin this wonderful rescue mission.

She went on to create, produce and host Best in Shelter with Jill Rappaport on NBC.

Rappaport also had an integral role on Animal Planet's Puppy Bowl and then went on to create and host Dog Bowl which was all about highlighting older dogs in need.

Jill has been awarded a record-breaking seven Genesis Awards from HSUS, The Humane Society of the United States. The Genesis Awards are considered to be the Oscars of the animal world!

She has also received the first "Voice for the Animals" Award from HSUS, The Presidential Service Award for Media Excellence from the ASPCA, and the Excellence in Journalism and Outstanding Contributions to the Pet Industry Award. And she has had the honors of ringing The NYSE Opening and Closing bell, all to raise awareness for pets in need.

Jill continues to use her passionate voice on her podcast, Rappaport to the Rescue, featuring A-list celebrities who have adopted and rescue / shelter newsmakers on Pet Life Radio. This podcast can be heard by 200 million worldwide.

With her new Pet Products with a PURPOSE line, Jill is dedicated to her goal of finding every homeless pet what they all deserve - a happy and loving home - forever!